CJI is Seeking a Prescription Drug/Opioid Overdose Prevention Program Assistant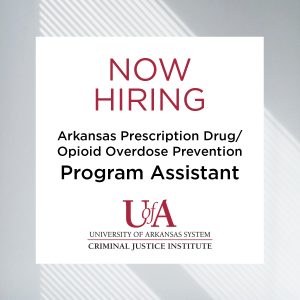 Do you want to join the Arkansas Prescription Drug/Opioid Overdose (PDO) Prevention Program and help prevent opioid misuse and overdoses?
CJI is seeking a Prescription Drug/Opioid Overdose (PDO) Prevention Program Assistant to assist in the implementation of programs, projects, education, training, and administrative tasks associated with activities of the grant-funded program by providing general office support and assistance in the management of course offerings, records, and student enrollment.
The Program Assistant is a provisional position that provides program assistance by maintaining course files and records, filing paperwork, preparing course flyers and announcements, registering students for courses, managing enrollment records, entering evaluation results, coordinating with hosting law enforcement agencies, classroom setup, travel, preparing and submitting training certification paperwork, and assisting with the facilitation of classes. Other duties include tracking supply inventory, managing program calendar, preparing meeting minutes, and maintaining spreadsheets.