Duty to Intervene & Post Custody Care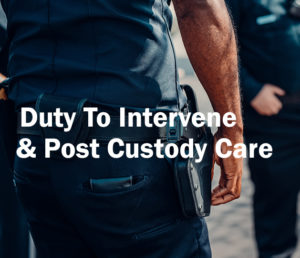 The Criminal Justice Institute is bringing Duty to Intervene & Post Custody Care to West Memphis!
Recent images seen in the media have sparked citizens to be concerned with an officer's duty to intervene.  Due to this concern, agencies are developing policies and implementing new procedures to help alleviate potential issues with intervention and post custody care.
With this 4-hour training, officers will learn the focus of such policies should describe when an officer should intervene, if improper force is being used, and how these incidents should be reported and documented.  Post custody care procedures will also be discussed to ensure officers are trained to recognize the need for medical attention by proper personnel, with minimal delay if needed.
At the conclusion of this class, officers will be able to:
– Articulate the reasons an officer has the duty to intervene per agency policy
– Describe officer and supervisor responsibilities arising from an intervention
– Define and describe the differences in the terms "respiration" and "phonation"
– List the symptoms of respiratory distress
– Describe three positions to reduce shortness of breath
– Discuss case law concerning duty to intervene
– Discuss points on how to mitigate dangers encountered during post custody care
---
UPCOMING COURSE DATES AND LOCATIONS:
Crittenden County Sheriff's Office: March 13 (Afternoon Session)
Crittenden County Sheriff's Office: March 14 (Morning Session)
Registration for these trainings is available online.
For additional information, contact Kimberly Hendricks Jones at 501-570-8041.