September is National Suicide Prevention Awareness Month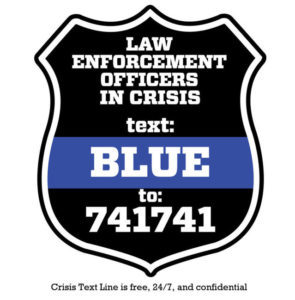 The rate of suicide by law enforcement officers remains a continuing crisis.  If you or someone in your agency may be showing signs of suicide, please seek help!
The National Suicide Prevention Lifeline is 
1-800-273-TALK (8255)
Arkansas now has a dedicated call center that is staffed 24-hours-a-day, 7-days-a-week. If a call is placed from Arkansas to the National Suicide Prevention Lifeline, the call will be answered by someone in the Arkansas call center who has knowledge about available local resources.
For those who don't want to talk, there is Crisis Text Line. By texting BLUE to 741741, you can connect with a trained crisis counselor who is willing to listen, all through text messaging. By using that keyword it simply lets them know you are in law enforcement somewhere in the country and need to chat. Crisis Text Line is free, 24/7, and confidential.
If your agency needs additional resources for suicide prevention and awareness, the International Association of Chiefs of Police (IACP) has many resources available on their website, including sample prevention and awareness programs.
The Bureau of Justice Assistance (BJA) and BJA's VALOR Officer Safety and Wellness Initiative partners also provide many resources related to the prevention of suicide among law enforcement officers. Find a compilation of these resources online.