Are you signed up to receive CJI Legal Briefs?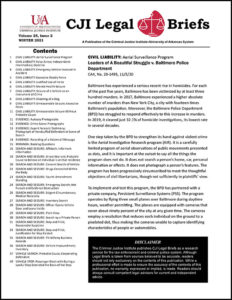 The Summer 2021 issue of CJI Legal Briefs is available online!
This free quarterly newsletter provides highlights of United States Supreme Court, Federal Court of Appeals, Arkansas Supreme Court, and Arkansas Court of Appeals cases that impact the Arkansas law enforcement and criminal justice communities. Its purpose is to continuously update law enforcement on current decisions that impact both the management and function of the various law enforcement and criminal justice agencies. This publication places an emphasis on adherence to legal mandates in order to protect the agency from civil liability.
The newsletter is distributed free of charge and is also featured on the CJI website.
A sampling of categories that are regularly featured in this newsletter include:
Civil Liability
DNA
Employment
Evidence
Freedom of Information Act
Search and Seizure
Vehicle Stops
Visit us online to review past issues of the CJI Legal Briefs and sign up to receive new issues as soon as they're released.