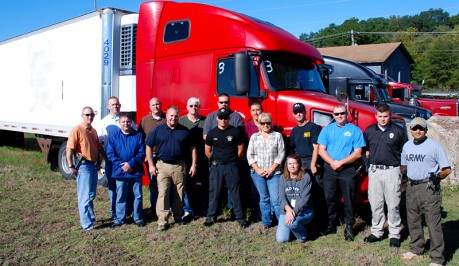 Methamphetamine use and abuse continue to be a problem for law enforcement across the state. Although clandestine labs are still present, the majority of meth brought into Arkansas is manufactured in Mexican "super labs." Due to its cheaper price and high purity, it is in high demand by drug dealers and users. With Arkansas being primarily a transit state, users and trafficking statistics have remained high, but steady over the last several years. These trafficking activities still pose challenges and safety concerns for officers implementing enforcement activities.
Through the Special State Asset Forfeiture Fund, CJI will continue to make methamphetamine a key training priority. The classes scheduled will provide a variety of curricular content and cover such topics as surveillance, highway drug interdiction, search warrant preparation, undercover operations, criminal patrol, drug recognition, and tactical entries. The classes to be presented have been developed by narcotics officers and interdiction specialists with decades of experience in their fields.
CJI will continue to offer online methamphetamine-related courses each month for increased access and availability.
The Illicit Drug Initiative will also focus on heroin, fentanyl, and prescription drug abuse. Heroin and Fentanyl Abuse will be offered and will cover the manufacturing, importation, distribution, and use of Heroin and Fentanyl. Additionally, participants will learn the unique hazards specific to these drug along with best practices when handling Heroin and Fentanyl.
For more information about the Illicit Drug Initiative, contact Annette Tracy: (501) 570-8061 or amtracy@cji.edu