Cybersecurity Defense Initiative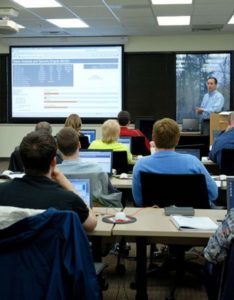 Cybersecurity threats to our nation's technical infrastructure are real and immediate. Computers and servers in the United States are the most aggressively targeted information systems in the world. Each year, the attacks increase in severity, frequency, and sophistication. As our nation's critical infrastructure grows more reliant on information technologies, it also becomes more exposed to cyberterrorism attacks, both foreign and domestic. These attacks can threaten our nation's economy, public works, communication systems, computer networks, and all other critical infrastructure.
The Cybersecurity Defense Initiative (CDI) program was created to provide comprehensive, transferable, and inexpensive cybersecurity training to qualifying technical personnel throughout the United States. Classes are offered free-of-charge to technical personnel and managers working within agencies or organizations considered as a part of our nation's critical infrastructure. CDI is unique in the arena of cybersecurity training because the classes are brought directly to areas of critical need throughout the country, at very little cost to the participants.
CDI training prepares technical personnel to prevent or greatly reduce the risk for a cyber breach of computer networks or other critical information systems, and effectively respond to or recover from a cyber-based terror attack. The two courses, Comprehensive Cybersecurity Defense (CCD) and The Cybersecurity First Responder (CFR), are certified by the U.S. Department of Homeland Security. CDI and its courses were developed under a cooperative agreement from the U.S. Department of Homeland Security/FEMA, National Training and Exercises Division.
To view a schedule of upcoming classes, visit www.cybersecuritydefenseinitiative.org/
NATIONAL CYBERSECURITY PREPAREDNESS CONSORTIUM:
The Criminal Justice Institute has partnered and collaborated with four other universities to establish the National Cybersecurity Preparedness Consortium (NCPC). Other consortium members include the University of Texas San Antonio, The Texas Engineering Extension Service in the Texas A & M University system, University of Memphis, and Norwich University.
The purpose of the consortium is to provide training and technical assistance to states and communities to develop viable and sustainable cyber-security programs. The consortium is organized around the Community Cyber Security Maturity Model (CCSMM) that emphasizes cyber-security as being the responsibility of the "whole community." Consortium members utilize the whole community concept to prepare our communities, States, Tribes, and the Nation for a coordinated response to any type of cyber-attack. For more information about the National Cybersecurity Preparedness Consortium, visit http://nationalcpc.org/.
For more information about CJI's Cybersecurity Defense Initiative, contact Jimmy Nobles at 501-570-8058.