Download The New NARCANsas App!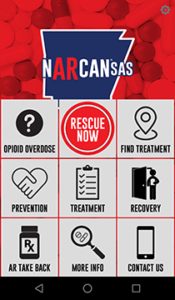 Download the new "Narcansas" app for life saving information and resources on opioid addiction, including how to save a life with naloxone. It's free!
Understanding the signs and symptoms of an opioid overdose emergency is critical to knowing when and how to take action.
The NARCANsas app is a free opioid overdose resource containing resources, links, and tools that will help you administer the drug naloxone in the moment of an opioid overdose and provide steps on how to save a person's life in the event of an opioid overdose. The app also features information for treatment, prevention and recovery.
FOR ANDROID USERS:
Google Play: https://bit.ly/2VYcpq8
FOR APPLE USERS:
I-Tunes: https://itunes.apple.com/us/app/narcansas/id1460163807?mt=8