New Funding Ensures the Continued Certification of the Arkansas Child Abduction Response Team (CART)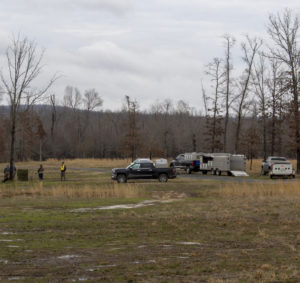 The Criminal Justice Institute has been awarded $100,000 from the office of Arkansas Attorney General Leslie Rutledge to continue and expand CJI's role in facilitating the Arkansas Child Abduction Response Team (CART) and to ensure Arkansas CART continues to be annually recertified nationally.
CARTs are multi-agency multi-disciplinary teams (state, local, and county law enforcement and related agencies) that are pre-organized and practiced to respond when a child is abducted, missing, or endangered. Because of prior coordinated planning and identified resources, substantial time is saved and the likelihood of the successful recovery of an abducted, missing or endangered child is increased.
Through collaboration between CJI, the Arkansas State Police (ASP), the Attorney General's Office and the Arkansas Governor's Office, as well as other state, local, and county partners, Arkansas earned the distinction of being the first state in the country to have a statewide certified CART. CART Certification is provided through the U.S. Department of Justice, Amber Alert Training and Technical Assistance Program.
"Arkansas CART is a resource for all law enforcement agencies in the State and helps ensure that all children in our State are protected if abducted, missing, or endangered. This funding from Attorney General Leslie Rutledge will ensure the Arkansas CART will be better prepared and practiced to quickly respond to protect and recover any child anywhere in the State who is missing," said Dr. Cheryl May, Director of the Criminal Justice Institute. "We are tremendously grateful to General Rutledge for her commitment to the safety of Arkansas children."
"When a child is abducted, the first few minutes and hours can be the difference in life and death. An investment to train our Child Abduction Response Teams is an investment in the life of a missing child," said Attorney General Rutledge.
The Arkansas CART consists of twelve local teams organized by Arkansas State Police troop. Arkansas CART participants include representatives from the Arkansas State Police, Arkansas Game and Fish, local and county law enforcement, community correction, victim advocates, emergency management personnel, school personnel, and other key agencies.
To maintain certification each year, local teams must attend annual meetings, meet training requirements, and successfully complete a child abduction exercise. The Arkansas CART Executive Board oversees the policies and operating procedures of all CARTs in the State. CJI coordinates the Arkansas CART recertification and Arkansas CART Executive Board activities.