The Recovery of Human Remains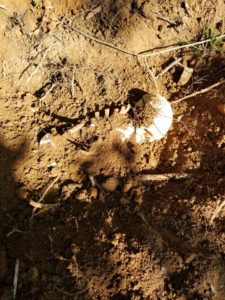 The recovery of buried human remains presents unique investigative and technical challenges for law enforcement. CJI provides a five-day course, Recovery of Human Remains, that trains law enforcement to recover badly decomposed or skeletonized human remains.
This intensive, hands-on course allows participants to process unique crime scenes through realistic mock scene exercises. Law enforcement and crime scene technicians will learn how to preserve all associated physical evidence from outdoor crime scenes, both exposed and buried. Procedures used in finding buried bodies will also be presented.
New crime scene specialists and investigators will benefit from this program. A list of equipment needed will be provided at time of enrollment.
This training will teach participants to:
Identify the proper procedure for recovery techniques
Recognize the capability of Forensic Anthropologists/Odontologists
Know what procedures are when called upon to process a crime scene involving skeletal remains
Demonstrate the proper techniques to properly excavate and process a burial site
Recognize the proper procedure for documenting a recovery site crime scene
Identify the tools and equipment required to complete a recovery process
Know the proper search techniques used in locating a buried body
Demonstrate the ability to thoroughly examine, document and process a recovery site
This training will be held at the Criminal Justice Institute from October 21-25. Register online today.
***********************************************************************************************************
CJI Offers Equipment to Assist Agencies in Recovery Efforts
In addition to this training, CJI offers a fully equipped, enclosed trailer exclusively for use in recovery efforts. This fully stocked trailer contains all of the equipment needed to find, document, and recover human remains. The entire unit can be requested by law enforcement statewide free of charge. CJI also has a full-size truck that can be used to tow the trailer anywhere in the state.
Contact Annette Tracy (501-580-8061) if you have the need to utilize this free equipment.